Based in Herndon, VA, Zarca Interactive's leadership team brings years of experience in research, engineering, technology, journalism and marketing.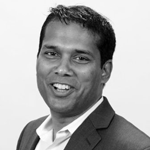 Suhail Farooqui
Chief Executive Officer
Suhail Farooqui is the Chief Executive Officer of Zarca Interactive. Prior to his current role, Suhail served for five years as the company's Chief Operating Officer.

Earlier, at MicroStrategy (NASDAQ: MSTR), Suhail oversaw the deployment of Business Intelligence solutions and led the development of innovative solutions for real-time alerts. Suhail started his career in the research division of Schlumberger (NYSE: SLB), where he worked as an associate research scientist. His findings in the areas of Magnetic Resonance Imaging and Microgravity have been published in refereed journals.

Suhail holds a Bachelor of Science degree in Electrical Engineering from Rensselaer Polytechnic Institute in Troy, New York. He spent three years as a graduate student at Yale University in New Haven, Connecticut.

Hamid Farooqui
Senior Vice President of Engineering and Chief Technology Officer
Hamid Farooqui has served as Zarca Interactive's Senior Vice President of Engineering and Chief Technology Officer since 2005.

Hamid was an early member of the technology team that built e-Travel, the Travel Software division of Oracle Corporation. In recognition of his strong performance and technology management skills, Hamid rose through successive promotions to serve as Director of Engineering. After e-Travel was acquired by Amadeus, Hamid led the integration of two complex technology platforms in both the U.S. and Europe.

Hamid earned an engineering degree from Bombay University in India and holds a Masters in Computer Science from SUNY, Binghamton, New York.