Store data in Access to support longitudinal analysis
Make HTML versions of results to post on your website
Create SPSS, CSV and Excel spreadsheets
No extra formatting, just a clean data transfer!
Sharing and storing survey data makes the information more versatile and valuable to your organization.
From the Export Manager main page, users can quickly export a selected survey's results via the blue quick links tab at the top and bottom of the page.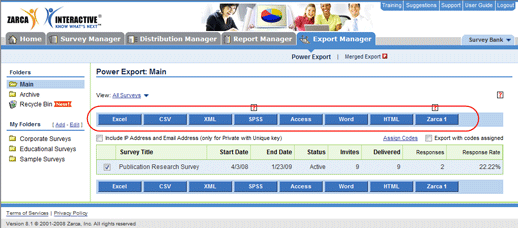 Export Manager – A Quick Look
Export Codes
Assign codes for increased analytical clarity and organization of large amounts of data.
Data Format Types
8 convenient options for exporting data.
SPSS Download
Clients who use SPSS can download survey data directly into this format.