Administrators can then set-up varying levels of permission for these accounts so that colleagues may be delegated specific tasks.

For example, an administrator can set permissions for one employee to only access the survey creation section, while setting permission for another individual to only access the distribution section.

Zarca's "Home" module enables the account administrator to perform a host of activities related to account settings, premium features and user settings.
The Home module main page provides an overview of all active surveys, complete with title, folder location and a summary of invites delivered and current responses and response rates.

From the left navigation panel, account administrators can quickly access the account administration drop-down menu, the survey calendar, recent surveys, messages and alerts and survey resources.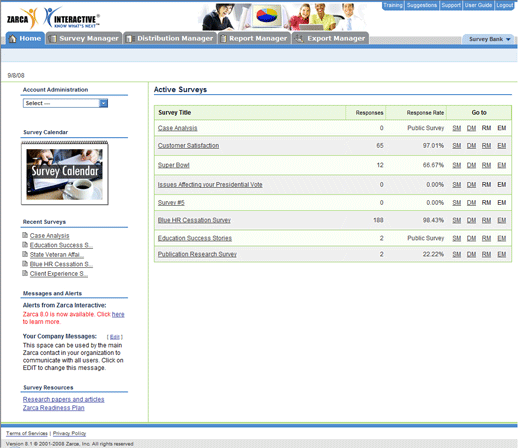 Using the Account administration drop-down menu, under Account Setup, administrators can edit, set permissions, reset passwords and delete existing sub-account users. They can also request new sub-accounts and send an email notification to the user with login and password information.